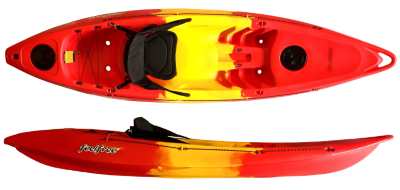 A classic design at an unbelievable price! The Roamer 1 is one of the best value for money sit on tops available in the UK and Ireland. Suitable for coastal and inland paddling.
A Very popular Sit On Top kayak design for all-round paddling on the sea, rivers, lakes and estauries. Great fun in small surf at the beach. Made in the UK and formerly known as the Perception Scooter.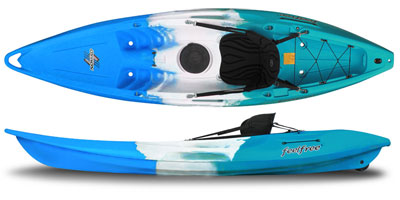 A firm favourite in the UK market thanks to the modern design and user friendly features including the wheel in the keel and solid moulded carrying handles. A true do-it-all sit on top kayak.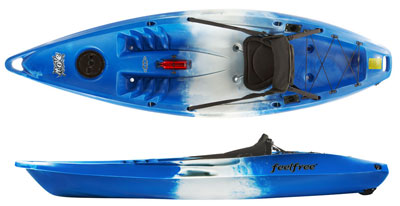 Lightweight sit on top kayak designed for smaller adults and junior paddlers. The Feelfree Move is a versatile sit on top in a more compact sizing.
13 foot in length, the Triumph 13 is one of the best touring sit on tops available offering more forward speed and straight line tracking than general purpose 9-10ft Sit On Tops. Ideal for coastal touring, river cruising and exploring sheltered waters. It's also very simple to add a few rod holders, to make the Triumph an excellent entry level fishing kayak.
High spec outfitting with a super comfortable seating system - The Tarpon 100 is very stable and easy to paddle on flat water. Easy open twist-lock hatches and the fully adjustable AirPro Seating System are just a few of the features the Tarpon 100 is renowned for.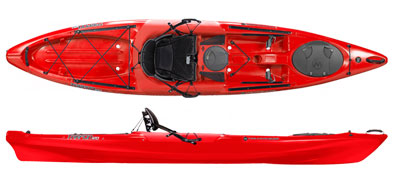 Longer and faster than the Tarpon 100, the Tarpon 120 offers extra forward speed and carrying capacity. A popular sit on top for touring and kayak fishing. All of the same great features as expected from the Tarpon range, with a larger rear tankwell and bigger oval front hatch for increased storage.